Writer: Quentin Tarantino, Matt Wagner
Art: Esteve Polls
Publisher: Dynamite & Vertigo
No time tunnels or dimensional jumps needed for this one, just a good old-fashioned meeting of two minds in the same place (akin to those old Marvel/DC crossovers). Django, still on his bounty hunting gig as seen in Unchained but a few years down the line, comes across an aged version of Don Diego De La Vega (known to Batman fans as Zorro), playing dandy in a carriage piloted by a mysterious, silent Native American.
Esteve Holls draws the two characters together as very much part of the same world and establishes the Western background with gusto, using shadows on faces to emphasise the baking hot sun. Sandworn colours and Don Diego De La Vega's mega loud suit are handled with equal gusto by Brennan Wagner.
Much of the first issue consists of the men getting the measure of each other and ends with two nice beats: De La Vega's call to arms with Django to find 'the Archduke of Arizona!' and a final, slashed 'Z' on a varmint's palm.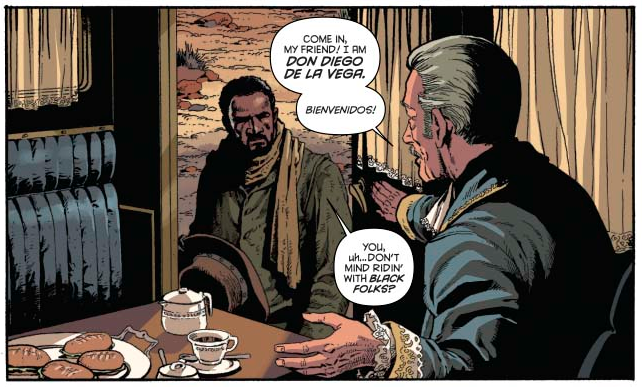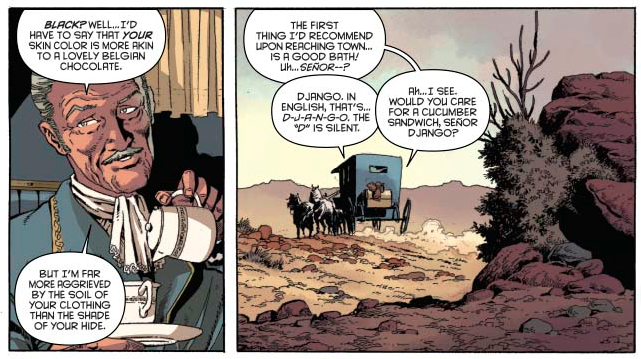 There's a playlist for the issue in the back, including a little DMX which is a nice Issues link. The other tracks are spread throughout this post.